Omega Paw Arch Groomer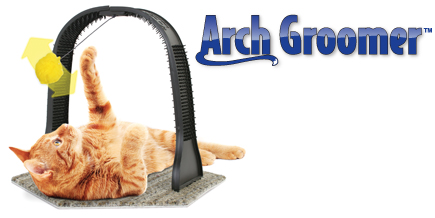 The Arch Groomer is the floor model of Omega's popular line of grooming aids. This "hands-free" groomer has an arch covered with nibs inside and out for cats to rub up against. The Arch Groomer combs out loose hair and gives a soothing massage all in one action.
Key Benefits
Purr-inducing unique design that will not only massage your cat but also scratch those hard to reach areas.
Helps keep your home cleaner as it combs out loose hair and keeps it all in one place. Easy to clean and maintain.
No hassle assembly and packaging includes photographic step by step instructions.
Made of sturdy material that will last. Durable enough even for the roughest cat!
Dangling ball will entice your cat to play and stay active.
DIMENSIONS
16.25 x 11 x 10.75 inches